Music Review: Sara Groves, "Invisible Empires"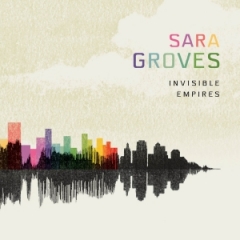 By John Bowen, Web Content Director

In a time where some artists' inspiration appears to shrivel up by their 2nd or 3rd album, Invisible Empires, the 10th album release by Sara Groves, is a milestone that clearly shows she still has much more to say musically.
Collaborated with producer Steve Hindalong (Leeland, City on a Hill, Sixpence None the Richer), each track on Invisible Empires has a quiet power and conviction. Sara Groves' amazing ministry is packed within her exceptional songwriting. With her smooth folksy voice and warm piano style, she proceeds to sweetly convict and convert listeners with each song. Whether it's the album's opener, "Miracle", which is at one point anthemic, at another smooth and reflective. Or "Obsolete" which reminds us of what's genuine in our lives. As Groves says, "We're not building something substantial that will last, so we build and operate in this invisible world. On the flip side of that, God is building a real invisible empire…"
Really, every song on Empires has a compelling introspection to it, but a couple songs of note to point out include "Eyes on the Prize", which is inspired by the gospel-inspired hymn, "The Gospel Plow". It reminds us to stay the course in this world; knowing our work on earth is for an ultimate grand purpose. Another is the quirky yet sad "Scientists in Japan", a statement on the condition of bioethics; how science progresses to the point where humanity is now an expendable variable. And "I'll Wait" is a rock-themed confession; stating that we simply can't do it all. Yet God is there when we finally realize our futility.
While not filled with formulaic radio-friendly works, Invisible Empires contains songs of depth and substance; each offering profound looks at aspects of both fallen earth and perfect heaven. Especially enjoyable are the artistic use of percussion, bells, sound effects, and the wonderful utilization of Sara's sweet voice in the studio.
Okay, I'm going to say it! Invisible Empires might be one of the best – albeit lesser known - CD's of the year. As a backdrop for your devotionals, reflection time, or as a break from today's guitar-based Christian music, Sara Groves' Invisible Empires is a sweet aroma.