Music Review: Natalie Grant, "Love Revolution"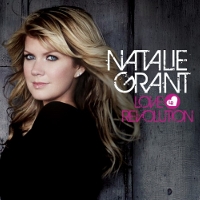 By John Bowen, Web Content Director
Passion. Emotion. Power. These words all describe Natalie Grant's latest CD, Love Revolution. On the one hand, it slams with pounding drum-n-bass rock and contagious grooves; then it turns a corner and becomes altogether introspective and piously worshipful. Described by Grant as the album of her career, Love Revolution represents a diverse assortment of musical styles, which all serve to keep the listener's attention.
The colors of each song change dramatically, but the constant throughout the whole album is Grant's amazing vocals. Natalie is at the top of her game; bringing full zeal, emotion, and energy with each cut.
Here are some highlights from the CD…
The CD's first radio release, "Greatness of Our God" is frankly the album's weakest song. All parts are in place, but the song sounds the most formulaic among works of much greater inspiration and sincerity. It's just "flat". However, the title track, "Love Revolution" propels with driving rock guitars and a Kelly Clarkson-style vocal delivery. The message conveys a decaying world that is need of a change – a revolution where God's priorities are the change agent that turns society around.
When you're in need of a passionate expression of worship, Natalie gives a healthy nod to the modern worship format with "You Deserve", "Song to the King", or "Desert Song". Of the three, "Song to the King" moves the sincerity meter the most, mainly because Natalie lends the most convincing and stirring performance there.
A personal favorite is "Human", which slows the tempo but doesn't relent a bit on the intensity. Co-written by American Idol Jordin Sparks, it's a slow power-pop anthem that's a great platform to show off Grant's powerful vocals (By the way, did you see Sparks and Grant perform "Human" at the 41st Annual Doves? Amazing!)
For those who need some down-home gospel, "Someday Our King Will Come" will get you raisin' your hands and dancin' in the church aisles! It's got a great Louisiana bayou rhythm n' blues feel, and those horns are rockin'!
Love Revolution is a superb contemporary Christian showcase of Natalie Grant's amazing voice. The lady could make you cry while she sings the phone book! As GMA Female Vocalist of the Year for four consecutive years (2006-2009) and the top-selling Adult Contemporary female solo artist in 2005, 2006 and 2008; these accomplishments are sure to ring true for 2010 with Love Revolution.