Music Review: Matthew West, "The Heart of Christmas"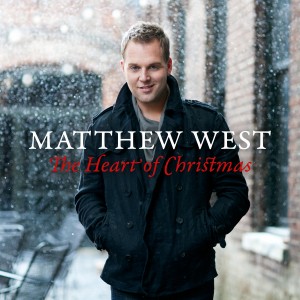 By Amy Hauck, Contributing Writer

Crooner Matthew West returns with his first-ever Christmas offering this year, but it's not your ordinary compilation of holiday favorites. The Heart of Christmas certainly reflects the traditional tastes of the yuletide carolâ "hot chocolate and all. However, in addition to the usual warm and fuzzy sensation we get from songs about snowflakes and Santa's sleigh, West takes time to synthesize the normal sentiments of the season with an overarching message expressed in several of his songs: In the mystery of Jesus' birth, "There is peace on earth for every heart to find."
Notably, West teams up with veteran vocalists Amy Grant, and Vince Gill, as well as Mandisa, to add some spice to this quintessential cup of cheer. Unlike many of the token Christmas albums that are released yearly, this vocalist strives to go beyond the comfort of familiarity and include original songs that convey a relevant message. In a society that is driven by desires to achieve and attain, West urges listeners instead to "Give This Christmas Away" (duet with Amy Grant). He addresses situations many families may face during this time of year, including the post-Christmas meltdown in the track "The Day After Christmas." He stresses that when the season is over we must "remember the light of the world is still here."
The Heart of Christmas begins with jazz hands and a show tune-like version of "Come On, Christmas"â "quickly transitioning to a heel-tapping, Michael Buble-esque rendition of "Jingle Bells." Another standout of the conventional favorites in this collection is a lively version of "O Come All Ye Faithful," complete with handclaps and a gospel choir. However, in addition to his song "Christmas Makes Me Cry" (duet with Mandisa), the song "One Last Christmas" looks past the tinsel and explores a more sorrowful side of Christmas that may resonate with many.
In his most notable single in this collection, West tells the true story of a child named Dax Locke , who lost his battle with cancer last year. In a powerful gesture, an entire city rallied behind the family to give the child a Christmas experience three months early. West is joining with the family to raise money through St. Jude's Children's Research Hospital in order to run the hospital one full day in honor of Dax's life (watch the official video on YouTube). Perhaps, in the end, that is one of West's main attractions: he strives to value and bring people's stories to life through music (see The Story of Your Life project).
In all, West says he hopes The Heart of Christmas will be "one of those records people find themselves returning to year after year, and as they do, may they find their hearts returning to the true meaning of this wonderful season."

Page Source (url): http://www.crosswalk.com/culture/music/reviews/west-shares-his-i-heart-i-for-christmas.html