Music Review: Matthew West, "Into The Light"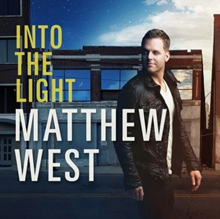 By Amy Hauck, Contributing Writer
When is the last time you watched a movie that was based on a true story? Your your typical action flick is fun and all, but there's something about the true to life tales that explore the realm of human possibility and make the wonder and excitement tangible for viewers. Somehow knowing that these people actually escaped from here, or that those people really went through [insert awful circumstances here] and came out all right is comforting, even inspiring. Matthew West does just that for his listeners in part two of his storytelling spree with Into the Light, an album reminiscent of his last project Story of Your Life which developed from his call to hear the life stories of his listeners.
In the fall of 2009, West found himself swimming in narratives and says he "rented a cabin in Tennessee . . . and spent two months in that cabin reading 10,000 stories." After Story of Your Life he still felt that there were some unsung heroes that deserved to be heard and would encourage listeners to be reconciled to God, and one another. Particularly, the album's first single "Forgiveness" outlines the story of a woman who chose to forgive the drunk driver who killed her daughter in a unique way (check out the story on YouTube). The beautiful thing is that, because West recounts stories drawn from diverse fodder, each song stands out both lyrically and musically as unique.
In fact, you can go to his website (matthewwest.com) and read the stories behind each of the tracks in this project. From prodigal children (Love Stands Waiting), to domestic violence (Into the Light), to infidelity (Restored), and imprisonment (We Are the Broken), West tells these stories with passion and conviction. The award-winning crooner is high energy as usual and is a proverbial well of catchy lyrics that are laden with emotion, but can sometimes be a bit cliché. Still this project will appeal to West's fans as another concept album that values the stories of men and women who have weathered life just as we all have. These songs are not hypothetical, or simply artistic – West puts the human condition into perspective by expressing that "children are afraid of the dark, but when we grow up, it changes." As a result he weaves these stories into one larger song that in the end urges listeners to run from the darkness and "step into the light."



Page Source (url):
http://www.crosswalk.com/culture/music/matthew-west.html